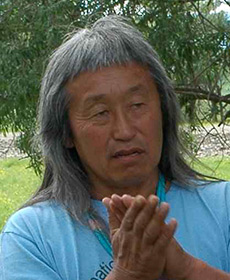 Danil Mamyev is a native Altayan activist from the Altai Republic of the Russian Federation. He graduated from Tashkent University with the degree in Geology. He has over 30 years of working experience in environmental field and indigenous issues. In 2001 indigenous communities of the Ongudai district of the Republic of Altai initiated the creation of a protected territory to protect Karakol valley, as a result Karakol Ethno-natural Park has been officially established; in Altai language it is called Uch-Enmek Park.  This nature park has an unusual status; it is funded and managed by the Altai Republic, unlike federal parks, which are administered from faraway Moscow. Mamyev is the Director of this Park. By 2003, three additional protected areas were created: Chui-Oozy, Argut, and Katun nature parks. Danil Mamyev became Director of the Association of Protected Areas of the Altai; he promotes incorporating traditional indigenous culture and customs into the park management. He also has initiated and is the founding Director of Tengri – School of Ecology of Soul, the institution devoted to revival and transmission of traditional knowledge and beliefs of Altai People.
Mamyev managed a number of project implemented in the Karakol valley with funding from WWF, UNDP, GEF. In 2001 he was elected to participate in the First Forum of Civil Society of the Russian Federation. From 2003-2006 participated in a number of indigenous exchanges between Native Americans and Native Siberians. In 2005 participated in training program on landuse planning and protected area management in Adirondak National Park (USA). In 2006 participated in exchange with the Sagarmatha National Park, the UNESCO World Heritage Site. In 2008 participated in IUCN WCC, where he presented a case study of Karakol Ethno-Natural Park's learning on dealing with cultural and spiritual issues on the territory of the park for the event of the  IUCN's Specialist Group on Cultural and Spiritual Values of Protected Areas (CSVPA).
Mamyev has a number of publication on the issues of protected areas management and indigenous issues in varios media of Russia.
Email: danil-mamyev@yandex.ru