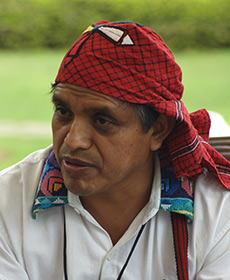 Felipe Gomez is a Mayan Quiche healer and spiritual leader. He is currently the coordinator of "The National Council for Mayan Spiritual Leaders" named Oxlajuj Ajpop and he has been involved with the organization since 1991.
He is advisor and coordinator of the Guatemalan Commission to Define Sacred Sites established after the Peace Accords. Felipe is also the coordinator of the Law Initiative on Sacred Sites (add link to library item), and coordinator of the COMPAS network for Central America to implement endogenous development approaches to bio-cultural diversity based on indigenous worldviews. He is also co-coordinator for the Central American ICCA Consortium, a global membership-based organization dedicated to the appropriate recognition and support of ICCAs (indigenous peoples' and community conserved areas and territories).
Felipe is the editor and author of various articles and books such as an Indigenous Social-Environmental Agenda and in particular also directives for the use, management and governance of water. Felipe has been lecturing and presenting his work and that of Oxlajuj Ajpop nationally and internationally, seeking support and advice on its implementation. Recently Felipe has been awarded the international PKF Award for supporting solidarity in and amongst communities in Guatemala and Meso-America.
Email: mayavision13@gmail.com