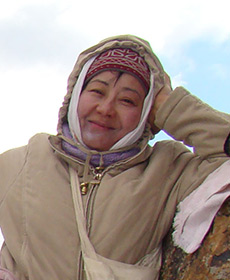 Gulnara  Aitpaeva has a candidate degree in Literature Studies from Moscow State University, USSR (1987) and doctoral degree in Literature and Folklore Studies from Kyrgyz National State University, Kyrgyzstan (1996). In 1996-2005, Gulnara A. Aitpaeva was taking various positions at the American University in Central Asia and contributed in building a new style university in the country.
In 1999 she founded the Kyrgyz Ethnology Department at American University in Kyrgyzstan, with the mission of developing new social science anthropology.  In 2002 she transformed this department into the Department of Cultural Anthropology and Archeology to expand its scope and mission. Currently she is the director of Aigine Cultural Research Center, which was founded by her in 2004 with the mission of expanding research on lesser known aspects of the cultural and natural heritage of Kyrgyzstan, integrating local, esoteric and scholar epistemologies related to cultural, biological and ethnic diversities.
From 2005 untill 2008 Gulnara was a member of the Board of Central Eurasian Study Society. For about five years she used to be an expert of the State Attestation Commission of Kyrgyz Republic. Since 2009 she is Acting Professor of the Department of Comparative Language and Literature Studies and the Russian Literature Department at Kyrgyz National University. Currently she is an academic adviser on the Theory of Literature Department at Kyrgyz-Russian Slavonic University. Since 2012 she serves as a country representative on the intergovernmental committee on intangible heritage of UNESCO. Her recent publications include a paper on Kyrgyz traditional spirituality, published by Continuum in 2011. Since 2006 she has edited five books on sacred sites and related traditional knowledge.