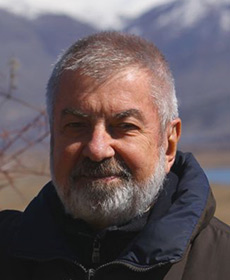 A successful professional architect and planner, he has dedicated most of his activities during the past 30 years to the conservation of the natural and cultural heritage and to environmental and sustainability issues.
He has been one of the two founders of WWF Greece (and its president from 1996 to 2004 and again from 2005-2006) and of the Society for the Protection of Prespa (and its president in 2004) and has contributed to the establishment of the Greek Biotope – Wetland Centre. He has also been a member of the Board of WWF International (for two terms) and the Tour du Valat and Sansouire Foundations in the Camargue (since the early 1990s). In 2009 WWF International nominated him as Member of Honour.
Among his other activities are the establishment and co-ordination of MedWet (Mediterranean Wetlands Initiative of the Ramsar Convention), the co-ordination of the Ramsar Culture Working Group and of the IUCN Delos initiative, and directing Med-INA (the Mediterranean Institute for Nature and Anthropos). In 2010 he was awarded an Honorary Doctorate for his environmental work by the Athens Agricultural University. He has also been involved with the ecological work of the Ecumenical Patriarchate and the integrated management of the Mt. Athos Holy Community.
In 2012 he was given the Ramsar Award in Recognition of Achievement.
He has written more than 250 articles, book chapters and books on architecture and planning, nature conservation and the environment, as well as on sustainability.