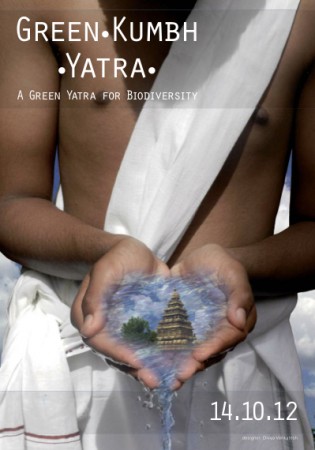 Sacred natural sites harbor significant amounts of biodiversity and play a key role in maintaining traditional knowledge related to culture and nature. The CBD has long recognised the importance of sacred natural sites and contributed to raising awareness and improving recognition of policy makers on this subject. See for example the Akwé Kon Guidelines outlining impact assessment for sacred sites affected by (proposed) developments.
The Sacred Natural Sites Initiative is now working together with IUCN CSVPA , the World Commission on Protected Areas, LifeWeb, the Secretariat of the Convention on Biological Diversity (SCBD), the Living Planet Foundation, Diversearth and others to raise awareness on pilgrimage, sacred natural sites and the spiritual values of biodiversity.
On the 10th of October in at the Rio Conventions Pavilion as part of a broader programme of "Natural Solutions: Protected Areas meeting Biodiversity Targets and adapting to Global Change." a presentation will highlight how Sacred Natural Sites can contribute  to the Aichi Targets in conjunction with the need for social safeguards and capacity building. The Rio Conventions Pavilion is located in the Novotel Ballroom, 11.00 – 12.30.
On the 14th of October day long event will highlight the issues and discuss opportunities for the way forwards, see the flyer and the programme. 10:00AM to 1:30PM, Group Room 1 (G.01) Ground Level, and from 2:30PM to 4:30PM at the  Pool Area at the Novotel Hyderabad International Convention Centre (HICC).
On the 16th of October a session "Protecting the Sacred and the Spiritual" will facilitate an expert panel that will consider current standards relevant to protecting the spiritual and cultural values of biodiversity and whether further standards are needed. Attention will be given to the role of Indigenous Peoples and Faith–based Institutions in achieving the Aichi Targets and possible new efforts needed to promote environmentally friendly green pilgrimages and management of sacred natural sites. Event 2645 from 18:15 to 19:45  at Side Event Room 1 – HITEX 1 – Ground Level.
Presentations from SNSI and IUCN CSVPA will focus on the IUCN-UNESCO Best Practice Guidelines 16; "Sacred Natural Sites: Guidelines for Protected Area Managers". We assess the progress made with translation and implementation of the Guidelines with a view to up-scaling their use in the context of Aichi target 11. This is followed by examples of local sacred natural sites guardians in Australia and South Africa who use the Guidelines as a management and advocacy tool to curb threats stemming from mining and tourism. We also look at the formulation of community protocols in Ghana and Ethiopia as well as the development of custodian guidelines. Both local responses serve the protection of sacred natural sites and help reflect us on the need for social safeguards and local capacity building inclusive of the sacred natural sites guardians and local communities. There will be a general discussion to conclude.